Book Week 2020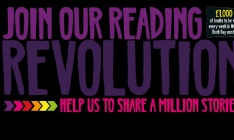 Dear Parents & Carers
This March, we are supporting World Book Day's Share A Million Stories campaign, championing the importance of sharing stories and for the chance to win £1,000 of books for our school.
Why Share a Story?
Sharing a story for just 10 minutes a day can have a lasting impact on a child's future, and can help to create readers for life.
How can you take part?
On World Book day, your child will receive their Share A Million Stories Reading Record, for children to tick-off how many stories they're sharing at home and at school (including their curriculum books, audiobooks, magazines, comics or graphic novels), which we can then add to our school total, there will be a share o meter outside the office to track our total.
The child who fills in the most on their record five weeks later in each year group will receive a prize.