Off-licences and supermarkets to publicise domestic abuse help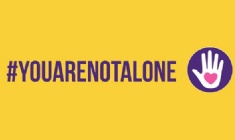 Off licences and supermarkets across Croydon are to display posters publicising where domestic abuse victims can seek help, as part of a new awareness campaign launching on Monday.
The campaign will see posters detailing the contact number for Croydon FJC and the free 24-hour domestic abuse helpline, put up in every one of the borough's 400 off-licences and at supermarkets across Croydon.
The campaign is being run in partnership between the FJC and Croydon police and independent domestic violence advisors and police officers will be in Lidl stores from 10am-1pm on the following dates handing out leaflets and talking to staff and customers to raise awareness.
• Monday 4 – Lidl, Thornton Heath
• Wednesday 6 – Lidl, Central Croydon
• Friday 8 – Lidl, New Addington.