St Chad's Remember - 11th November 2020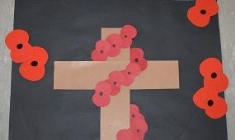 Today Wednesday 11th November 2020, the year 4 children held a special Remembrance Assembly.
We think about and remember with thanks those who have given their lives in sacrifice, so that we can live in a more secure and peaceful world.
We came together today virtually as a whole school to remember those who have given their lives, so that we have:
Freedom in Justice
Freedom in peace
Freedom to live
Freedom to speak
Freedom to worship
Freedom to oppose what is wrong
Freedom to be at home on our own land
Freedom to be instruments of God's peace and justice.
We would like to thank all the parents and friends who were able to join today.
Lest we forget!