HAF Programme Summer 2023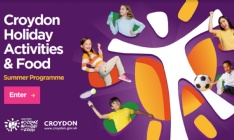 HAF Programme returns for the 2023 Summer holidays!
Funded by the Department for Education, the Holiday Activities and Food (HAF) programme provides free holiday club spaces for children in receipt of benefits-related free school meals during the Easter, Summer and Christmas school holidays.
If you qualify for HAF vouchers you will be able to use these to book a place at one of the Croydon provisions.
Open to eligible children and young people living or going to school in Croydon, our holiday programmes will offer:
free, nutritious and tasty food every day
fun daily physical activity sessions
a wide range of exciting activities to suit different ages, personalities and abilities
opportunities to learn more about healthy eating and nutrition
opportunities for children and young people to socialise with their peers and make new friends
For more information please look at the programme guide below.