Faith Leaders
Introducing our Faith Leaders 2021-2022

Year 1 Year 2 Year 3

Year 4 Year 5 Year 6
Children's Mission Statement
I will love God and I will speak to Him everyday
I will respect myself and all people, because we are all created in God's image
I will live our Gospel Values and encourage others to live them too
I will come to school to learn, achieve and use my gifts from God wisely
I will make St Chad's a happy place, where all people feel welcome
I will continue the work of Jesus Christ on Earth
Introducing our Chaplaincy Team 2020-2021

Aims:
To help the school to grow as a community of faith.
To encourage the pupils to live their faith in daily living.
To support Liturgy, prayer and the spiritual life of the school.
To involve pupils in fundraising for charities.
To support the school in its Mission Statement
Duties include:
Helping to plan and lead assemblies and Masses
Organising and leading class prayer times with other pupils
Lead lunchtime prayer opportunities throughout the year eg: Rosary, Prayer Garden, Stations of the Cross
Ensuring that Class prayer areas are tidy and reflect the season.
Organising fund raising for charity
Supporting younger children with their spiritual development
Welcome to the Chaplaincy Blog, the team is made up of children from Year 4-6.
Harvest 2019
We visited the food bank in Croydon to donate the food we collected for harvest.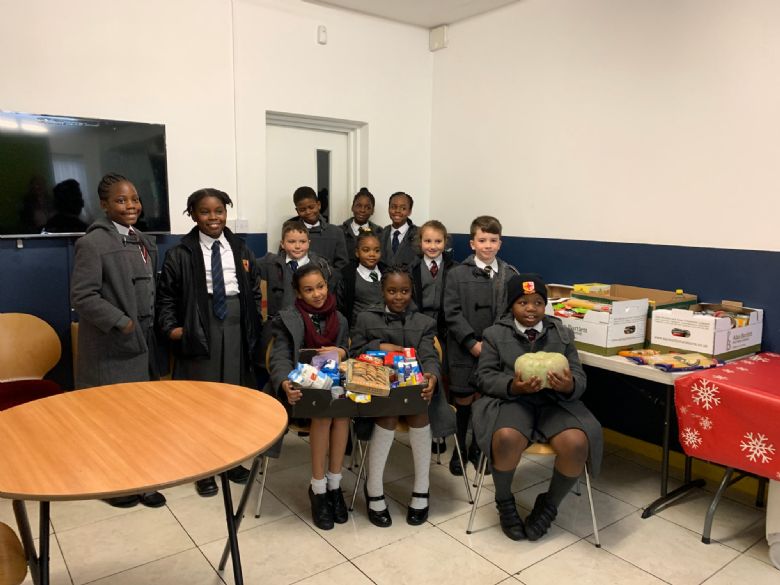 Introducing our Chaplaincy Team- 2018-19
Year 4
St Martin De Porres- Annette and Nwabueze
St Brigid- Aaron and Jaden
Year 5
St James- Jeffrey
St Andrew- Kirsty
Year 6
St Therese of Lissieux- Marcelina and Tyler
St Thomas Aquinas- Ijeoma
2018-2019 Autumn 2018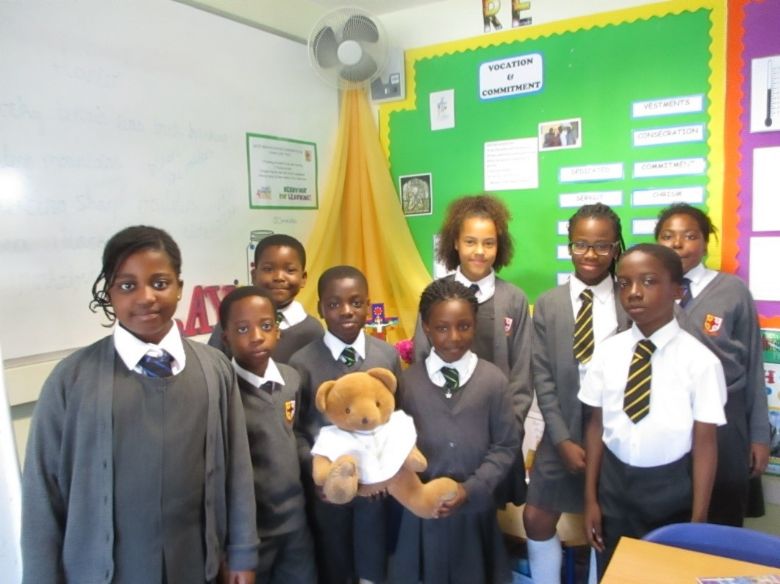 Our first challenge was to introduce our school prayer bear to the children of our school. We decided to place our bear in different parts of the school during break and lunch time.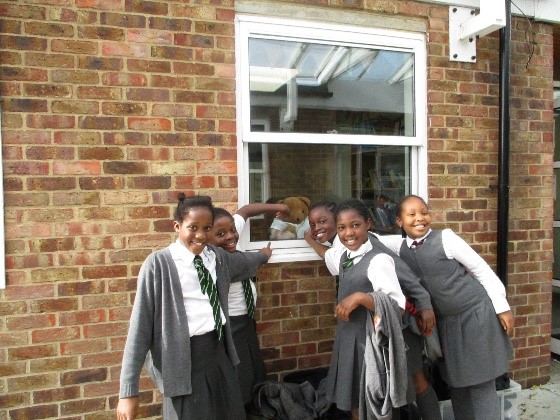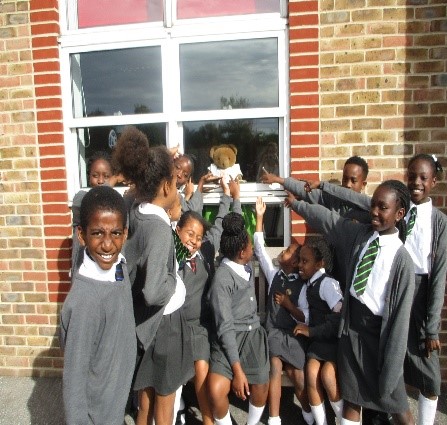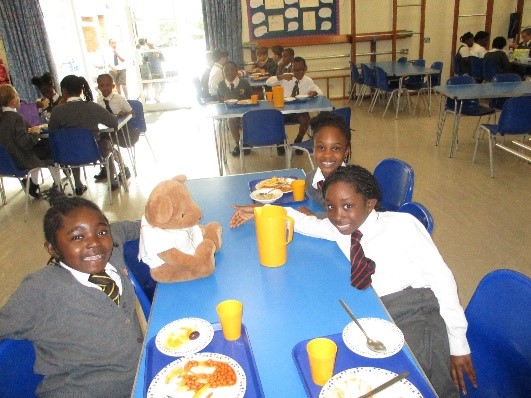 In order to name our school prayer bear the Chaplaincy team have selected the following names: Chad, Thomas and Martin. The whole school will vote the preferred name.
Mary Club-October 2018
Some of the members of the Chaplaincy team will be leading activities celebrating our Mother Mary every Wednesday this month. Come and join us.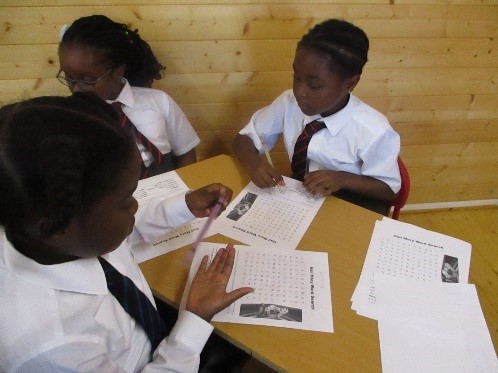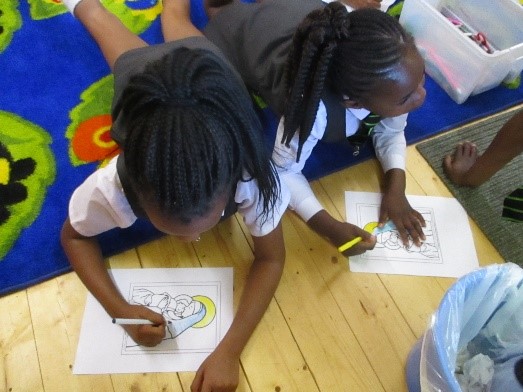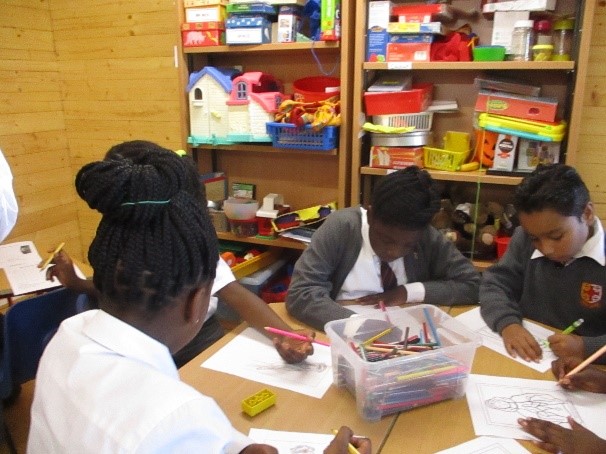 Remembrance-Friday 9th November 2018
Year 6, alongside the Chaplaincy Team, carried out a Remembrance Commemoration at the front of our school by planting a magnolia tree to represent everlasting life and commemorate the soldiers who gave their lives for us. As we sung 'Abide With Me' each of us added a handful of soil to the magnolia.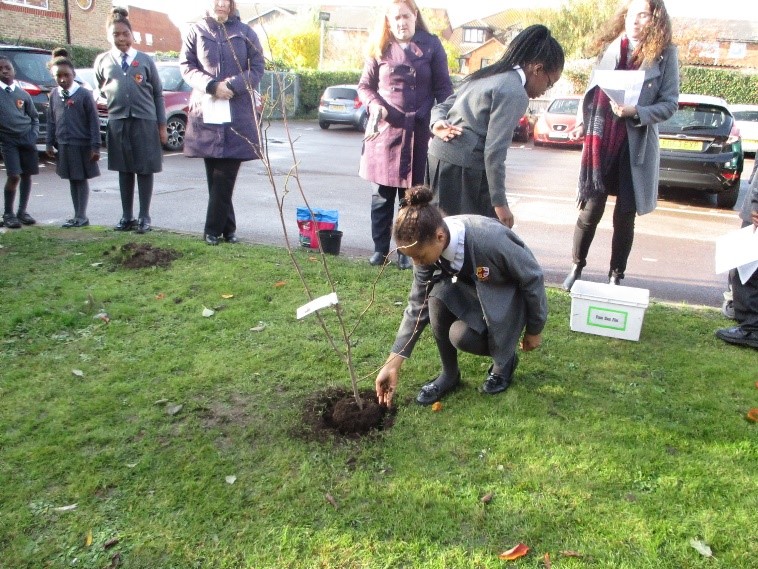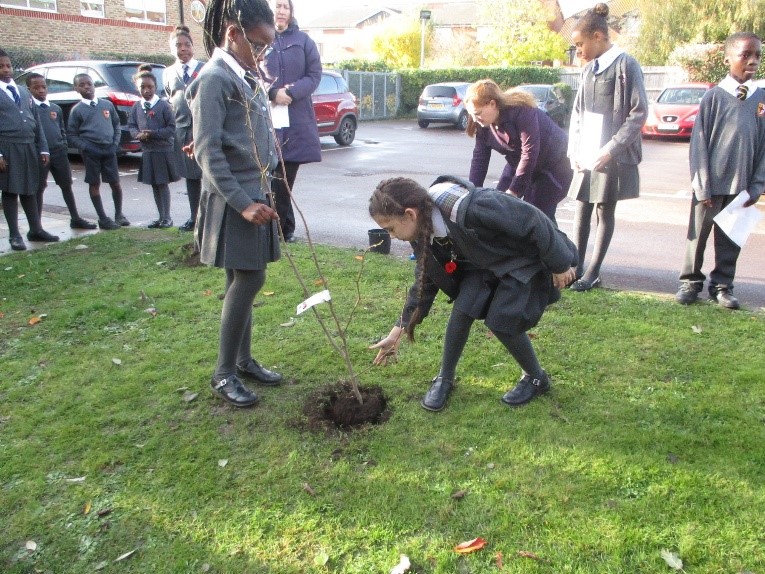 December 2018
During Advent we considered how, as a Catholic community, we are going to prepare for the celebration of the birth of Jesus. We also think about giving to those less fortunate than us and being part of changing children's lives in Jesus' name. Therefore, our Advent project was to support a local charity based in Croydon called African Child Trust (ACT). This organisation works and supports vulnerable children across Africa.
Our aim was for children in Nigeria to receive 'love in a box'.
We filled an empty shoebox and wrapped the box and added donations to the box such as:
-written cards
- pens
- toys
- hats, gloves
- colouring pens/paper
- books We were able to collect over 40 boxes.
Delivering the boxes
The Chaplaincy team did an amazing job at promoting and delivering these boxes to African Child Trust (ACT) in Croydon. The charity held a workshop for us and explained what they did across Africa and the impact of our donations.
Our school received a certificate for our efforts and support and will be visited by the ACT in March 2019 to share photos and videos about the children who have received the boxes.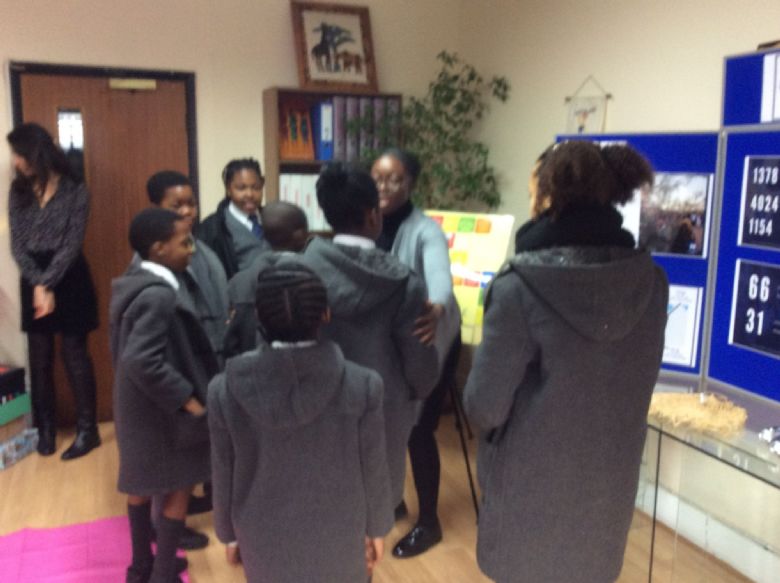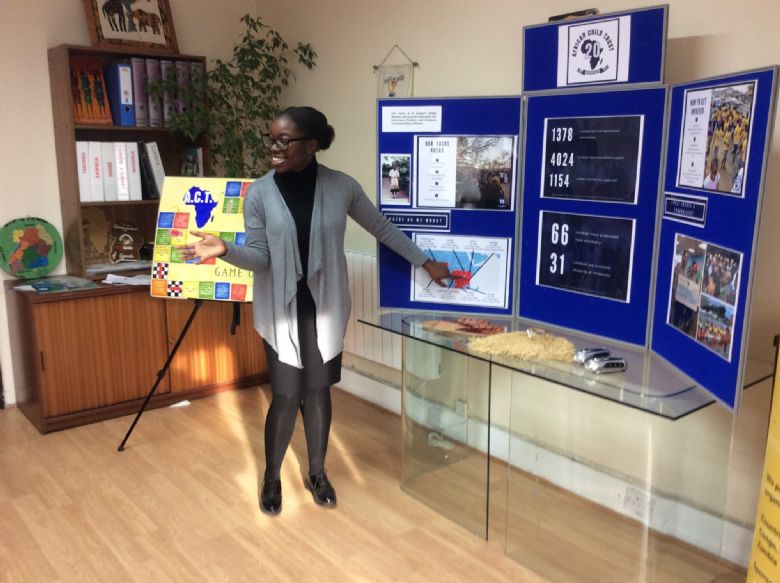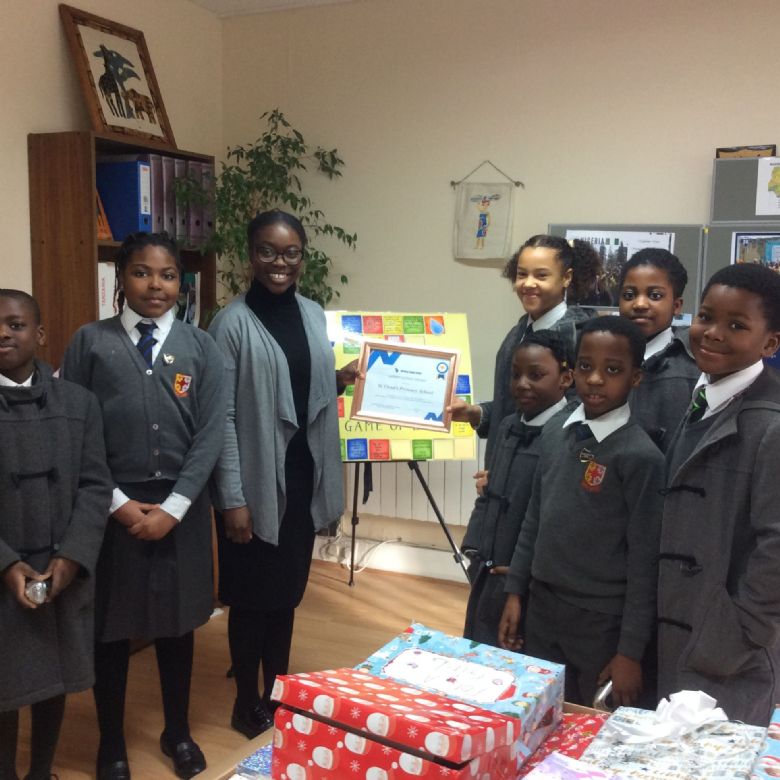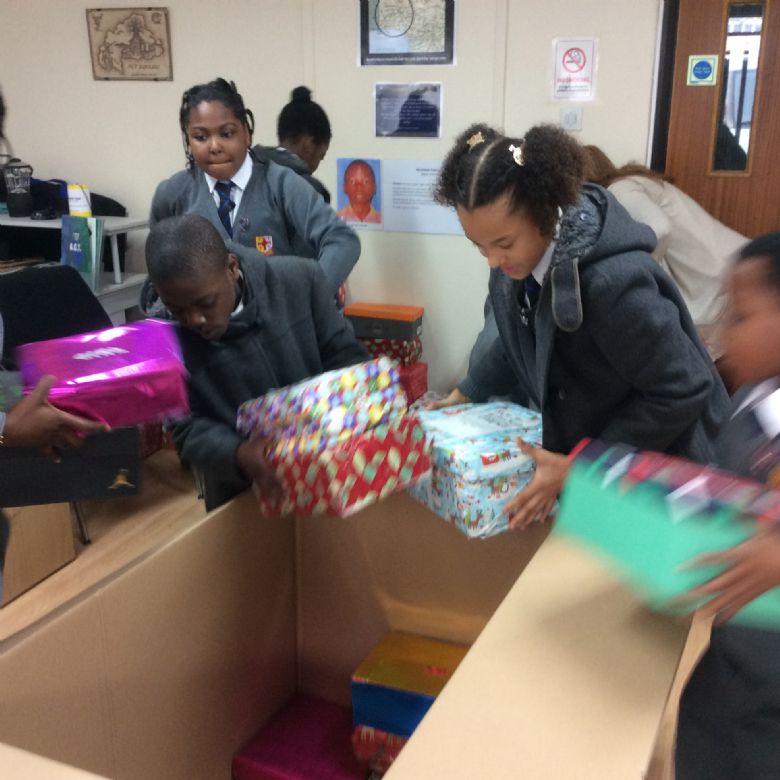 Friday 1st March 2019
St Chad's Feast Day
Today we celebrated our patron Saint's feast by having a mass in our school hall. Father Emmanuel celebrated this mass for us and helped us reflect on how we, as students of St Chad's and children of God, could follow in the footsteps of St Chad.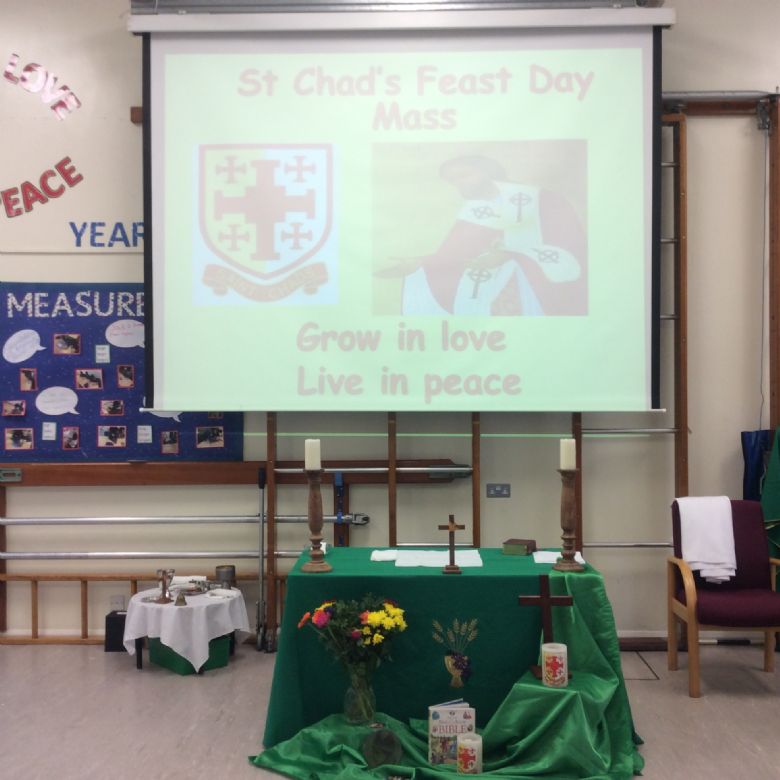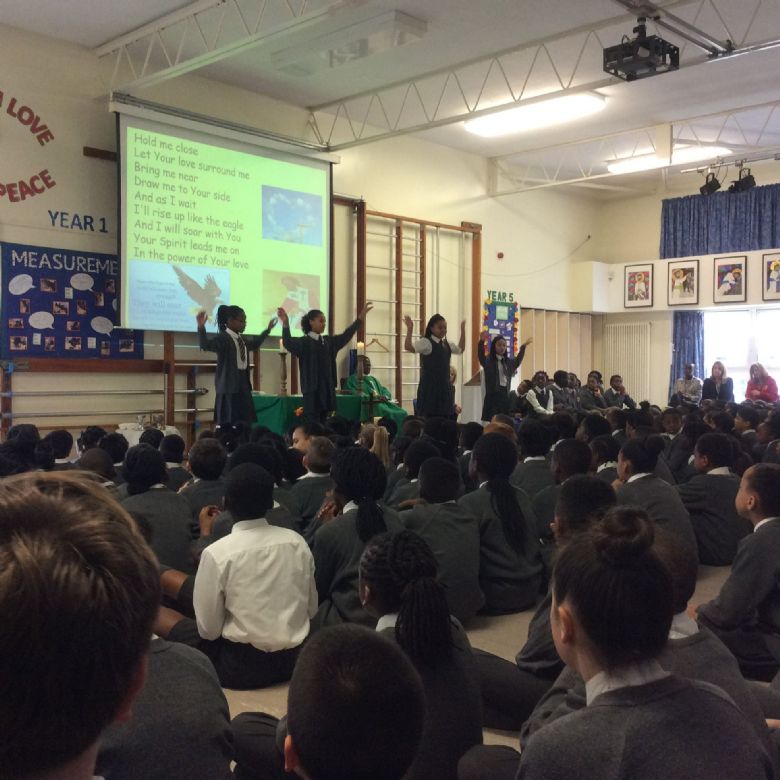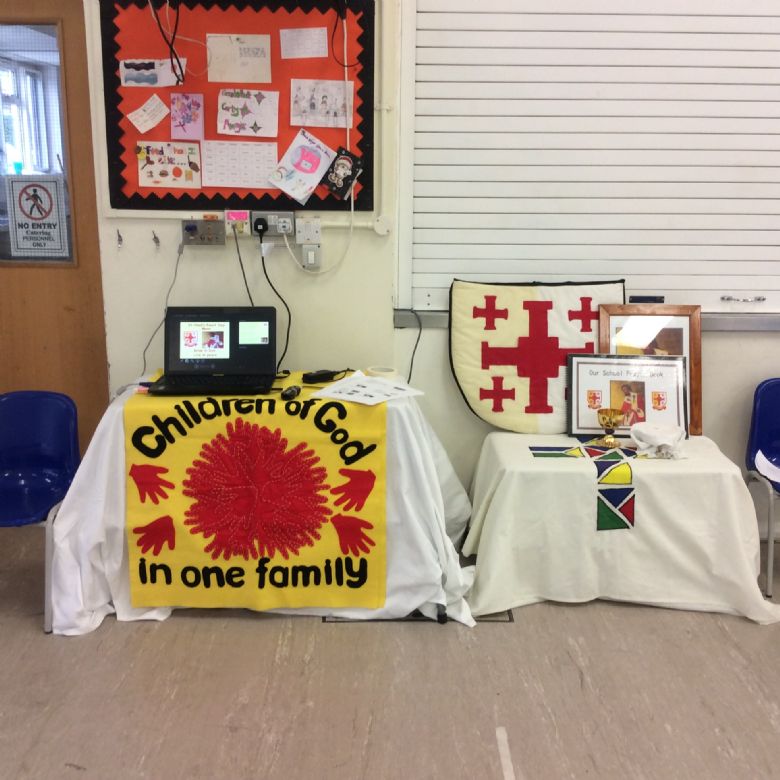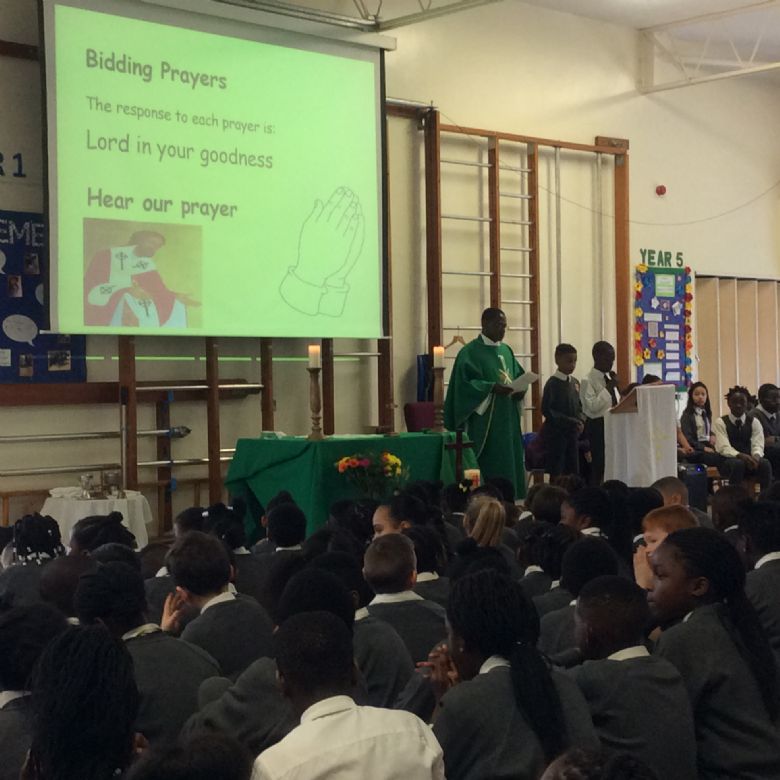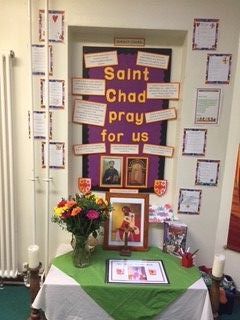 Lent 2019
Wednesday 6th March-Ash Wednesday
Today we attended mass at St Chad's Church. Fr. Bartholomew helped us understand how we could repent, forgive and be more as God wants us to be during this Lenten period.
Each student has written their Lenten promise on a template of a footprint; these footsteps will lead down towards the school's prayer area. By doing this we are walking with Jesus during Lent.
Stations of The Cross
During Lent we have transformed our learning resource room into a space to pray and reflect on the Stations of The Cross. We are inviting parents and children to observe the stations every Wednesday and Friday from 8:30-9:00.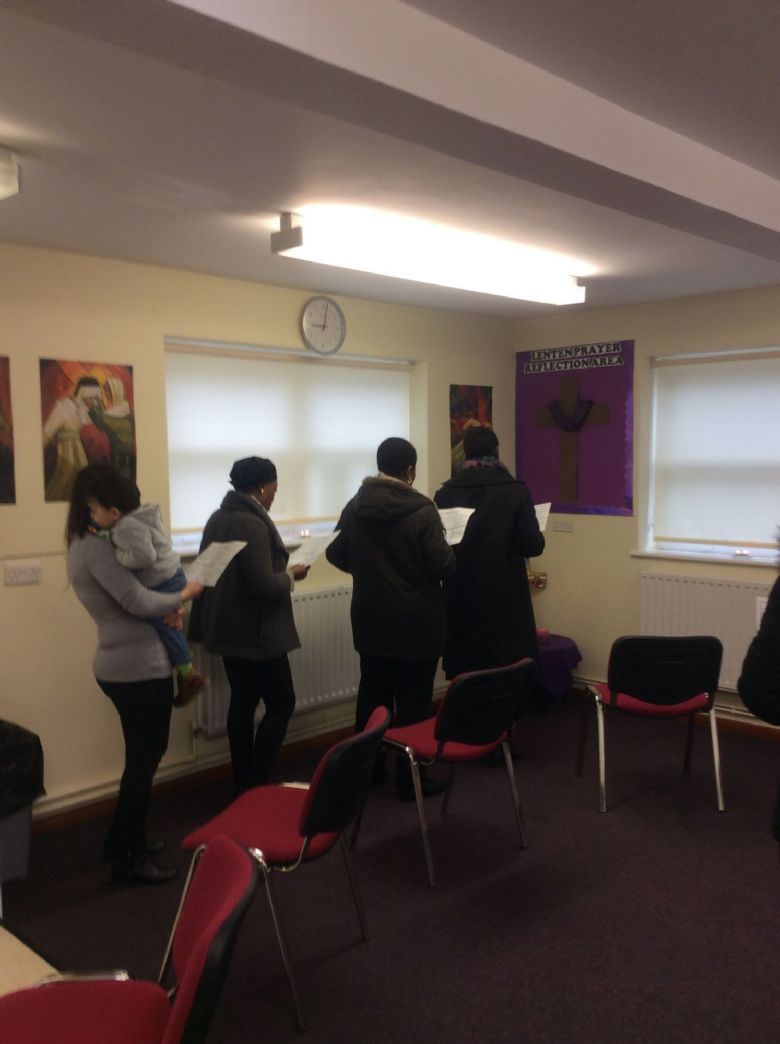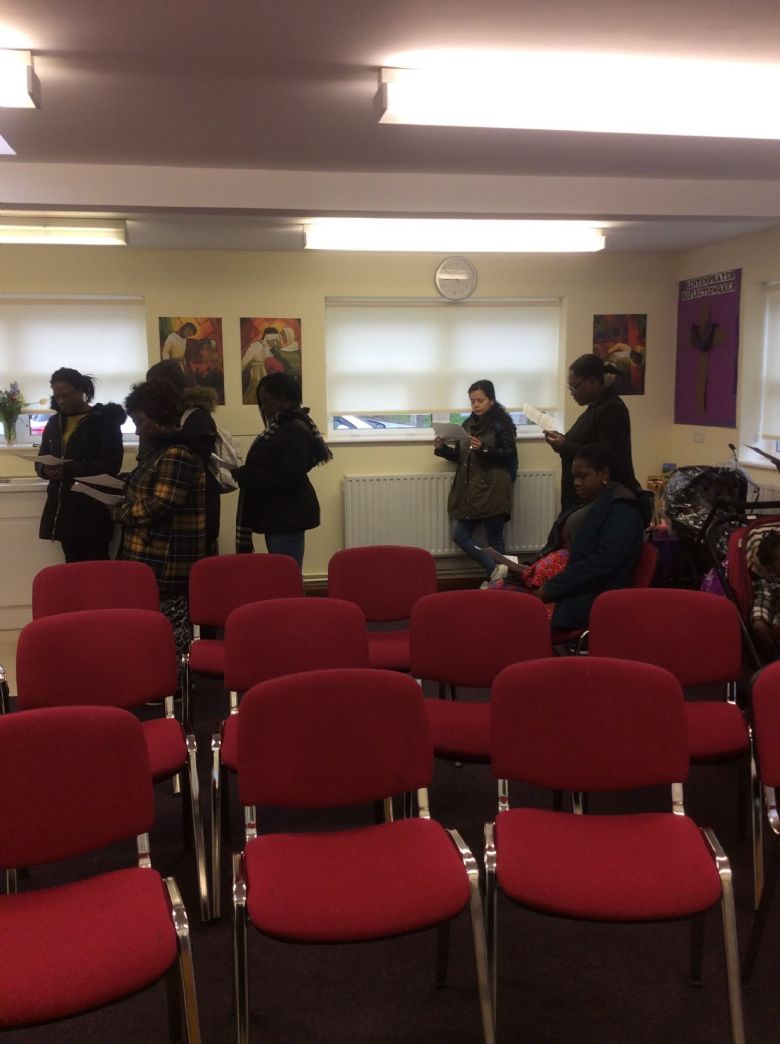 Stations of The Cross-Year 5 and 6
Over the Lent season the Chaplaincy team have been running Stations of the cross for Key Stage 2 in the learning resource room at lunch time.
Children were invited to observe the stations and have time to prayer and reflect.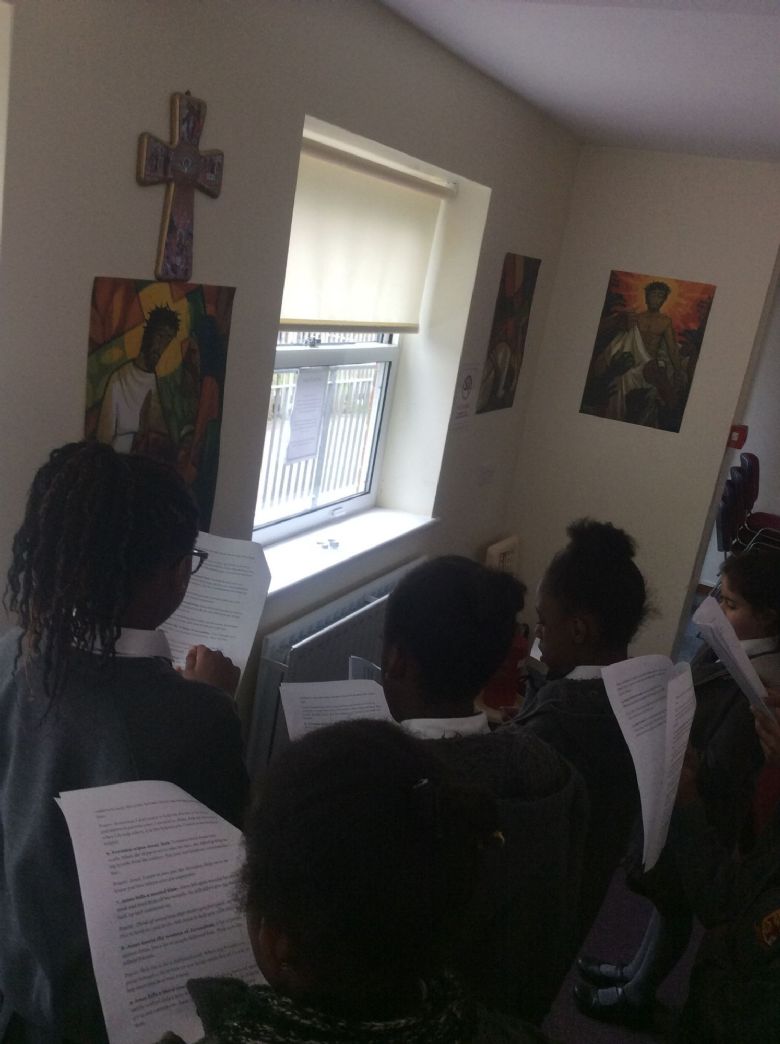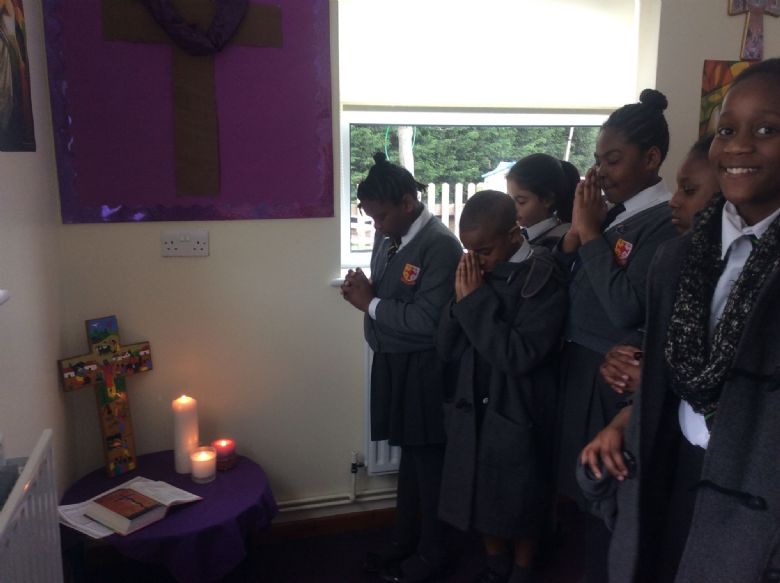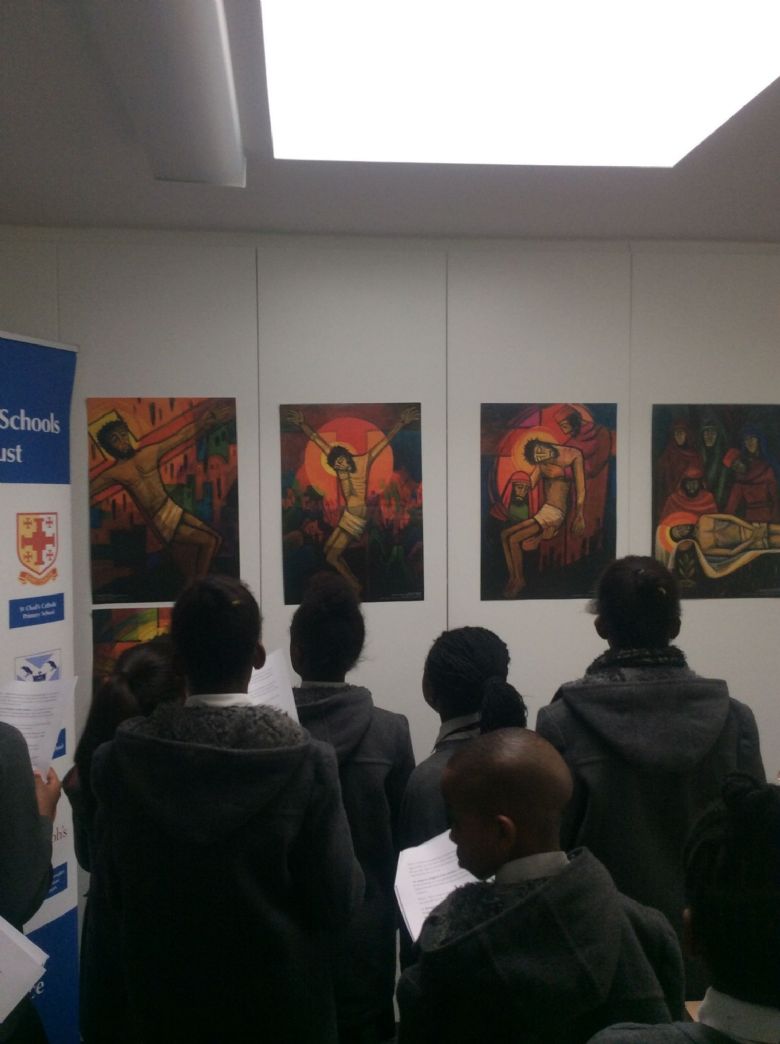 Monday 26th March 2019
Lauren from the charity African's Children Trust visited our school to show us the positive impact the 'Love in a Box' project had to children in Nigeria. We were able to see pictures and videos of children receiving our donations.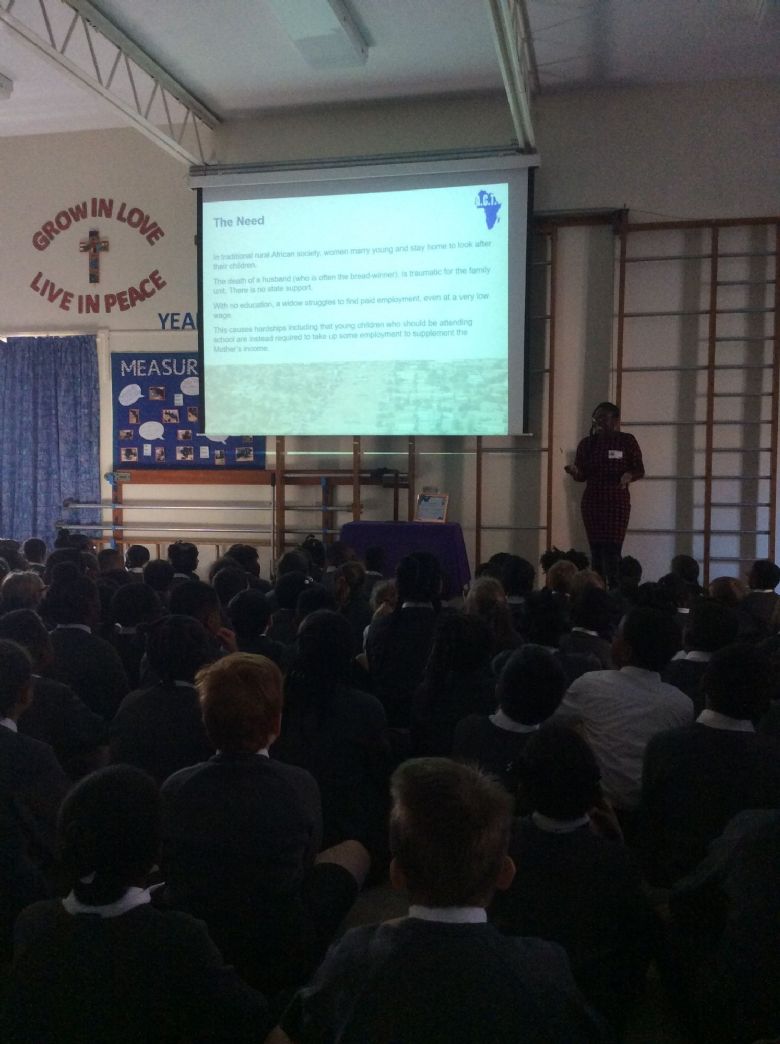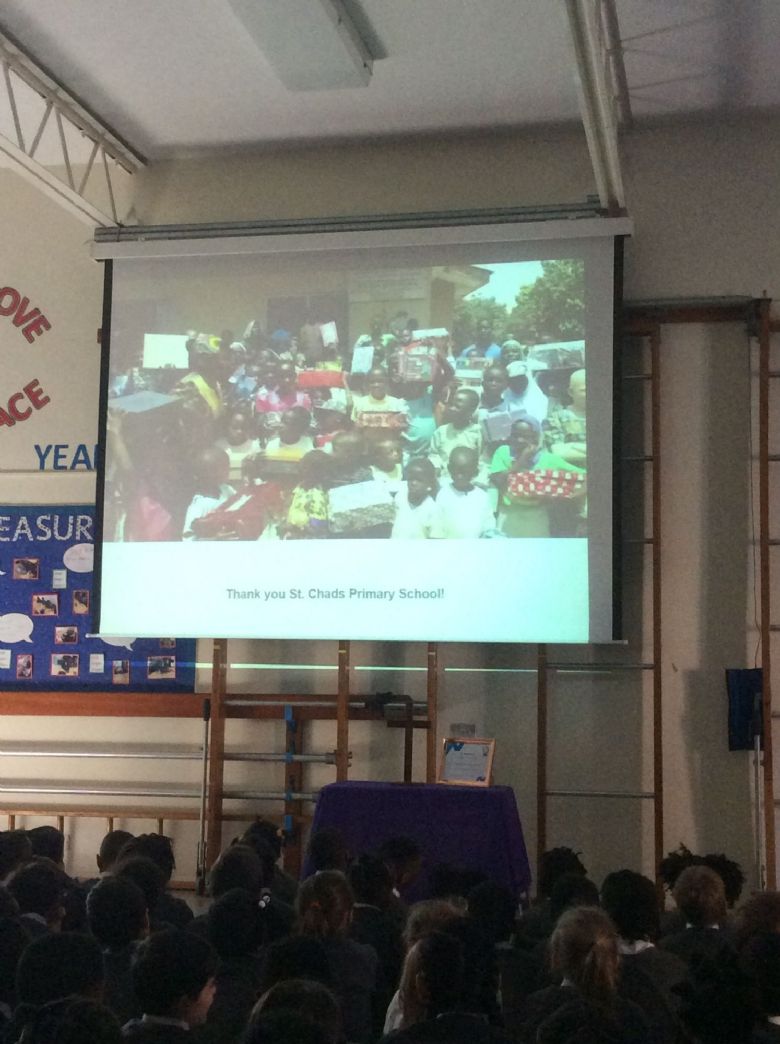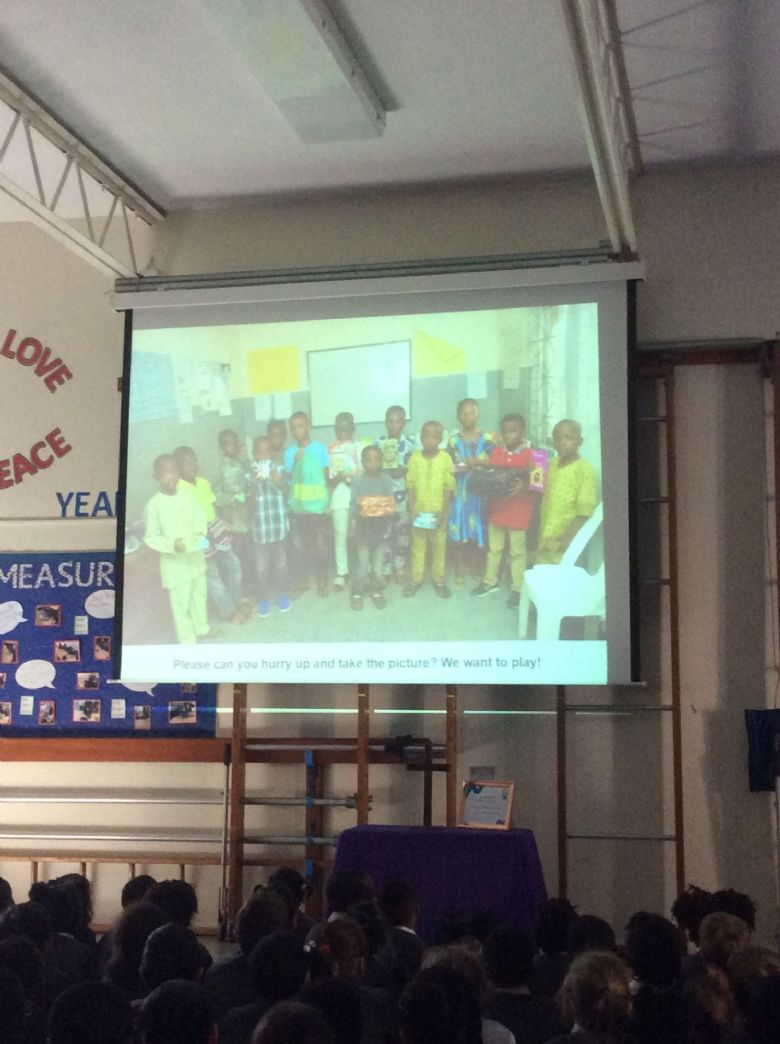 Lent-Stations of The Cross Competition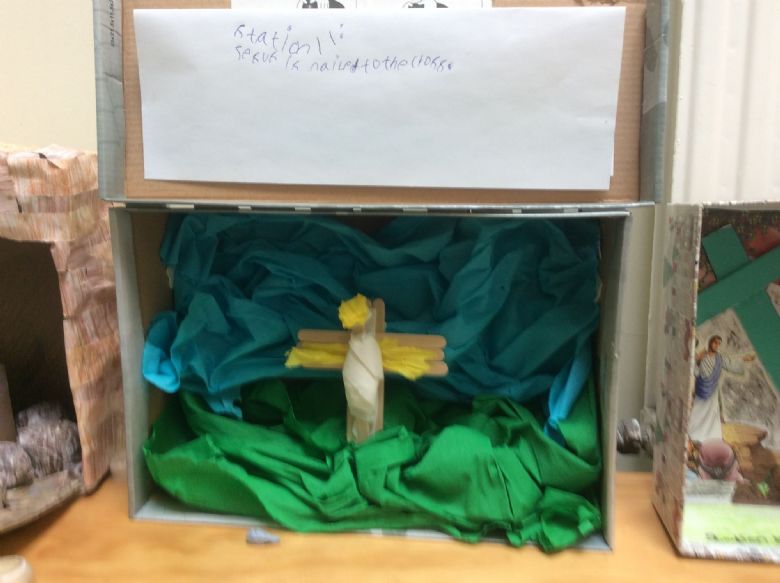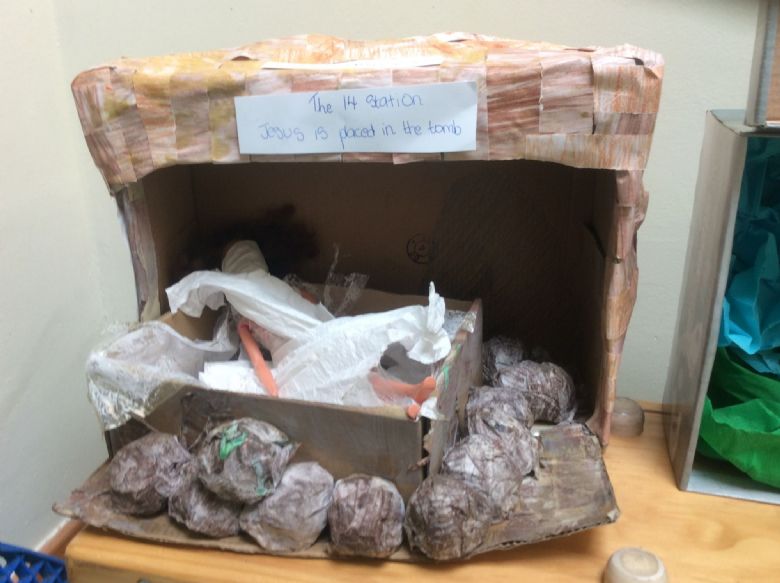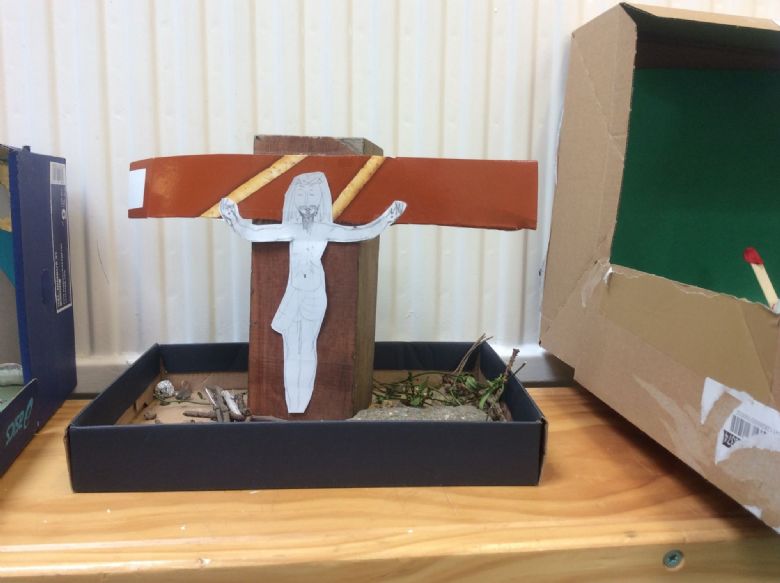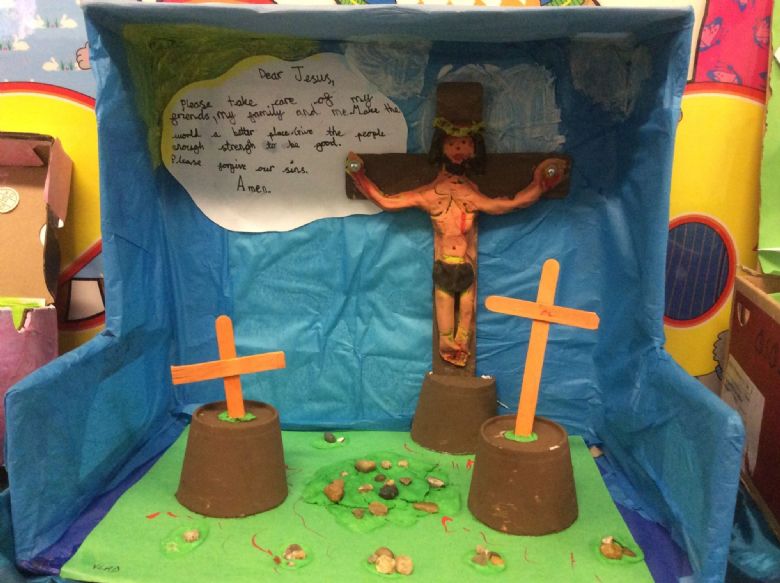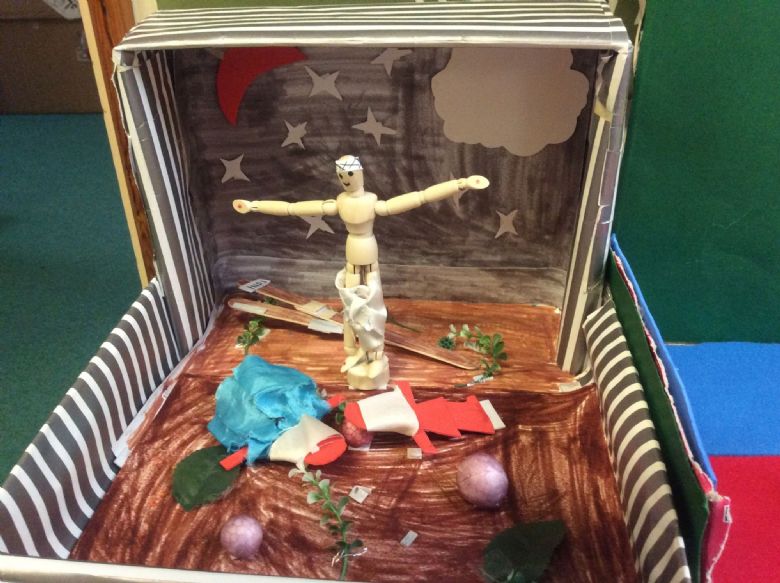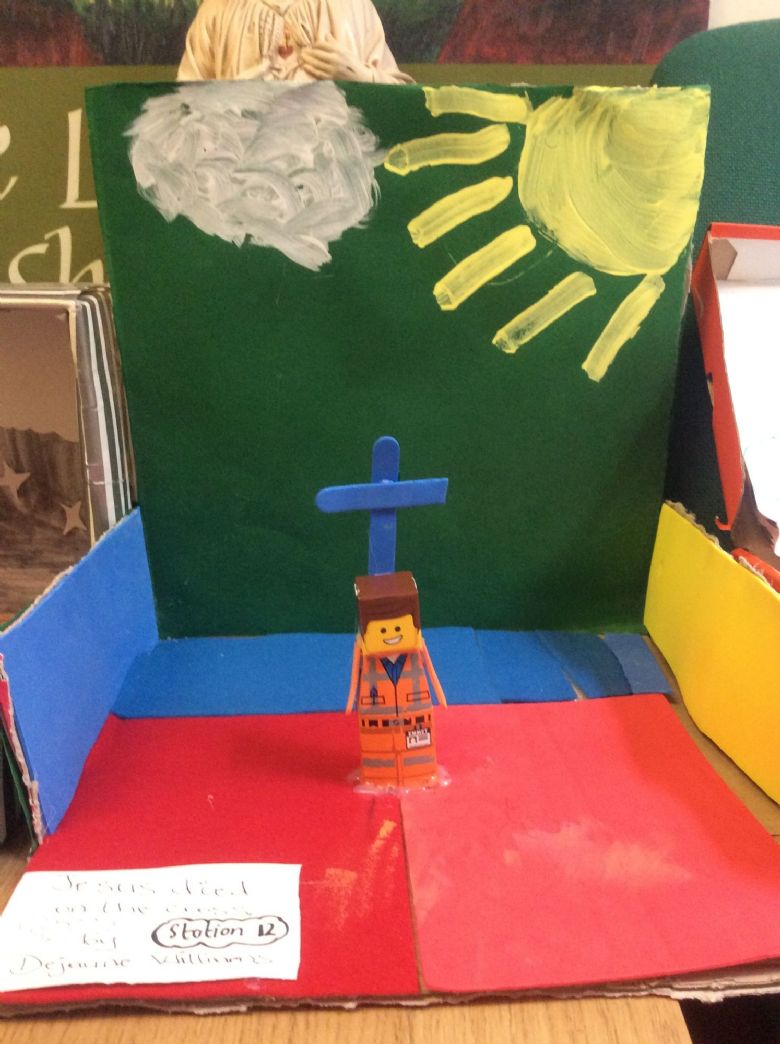 Summer Term 2018
As a celebration of new life after Jesus' resurrection members of the Chaplaincy team planted flowers and watered the school's potatoes, lettuce and spring onion.
Easter Gardens
During the Easter break children across the school were invited to make an Easter garden. See below all the wonderful creations...
December 2018
Before we began our role as Chaplaincy team, Fr. Bartholomew gave us a blessing in order to support and bless our journeys to promote our faith throughout the school.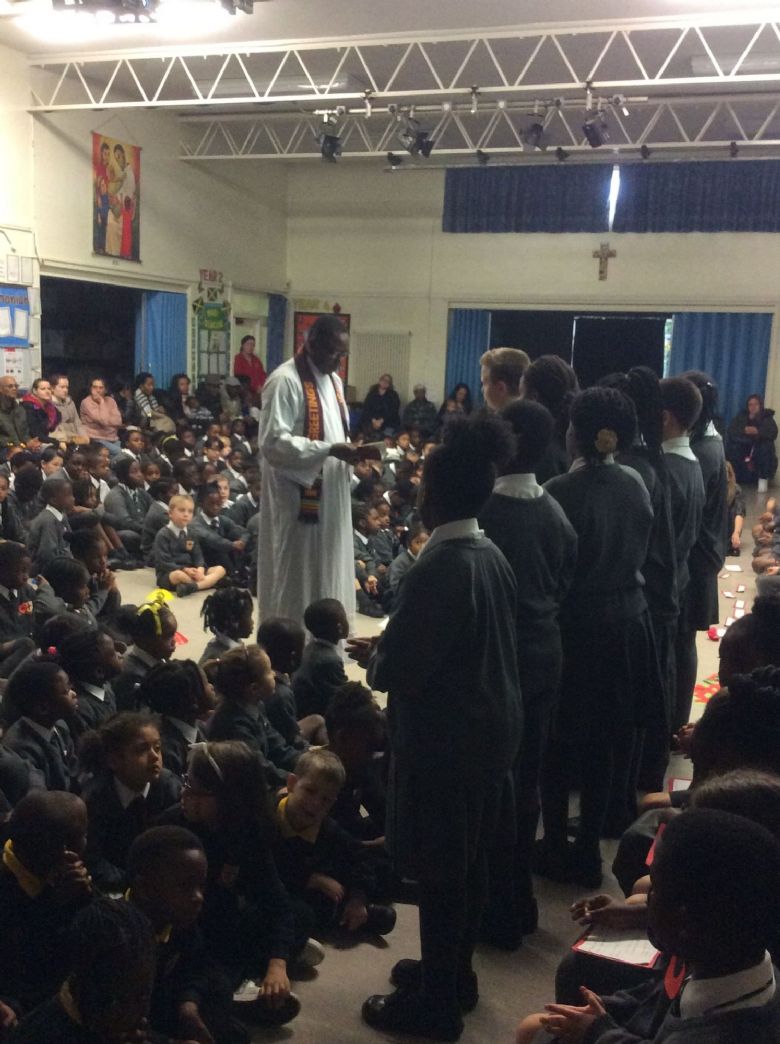 Before we knew it, it was Advent and we were taking on our first duty to support the homeless through the Croydon Churches Floating Shelter. Children from St Chad's were encouraged to donate items such as hats, scarves and toiletries to help the homeless over the cold months of December and January.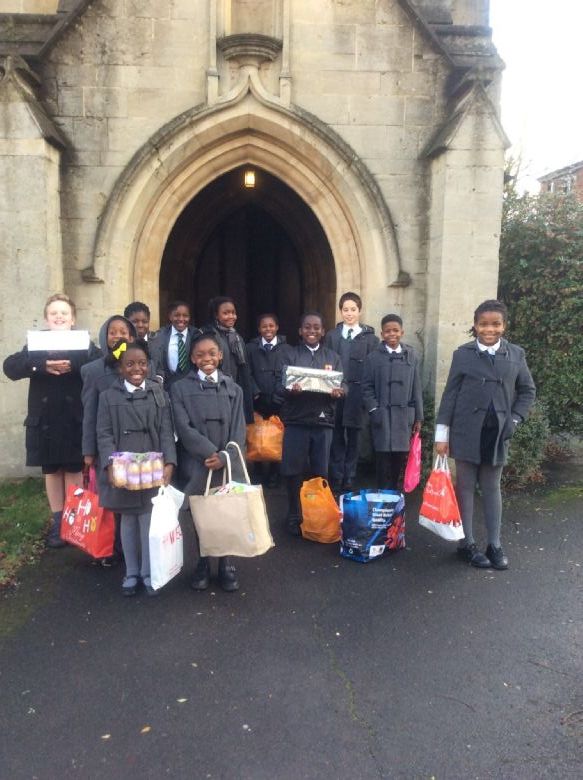 We encouraged and promoted this charitable event by making posters that were placed in classrooms. On Friday the 13th December we visited Holy Innocence Church, a local church who support the homeless, and gave our donations to Mother Roxanne.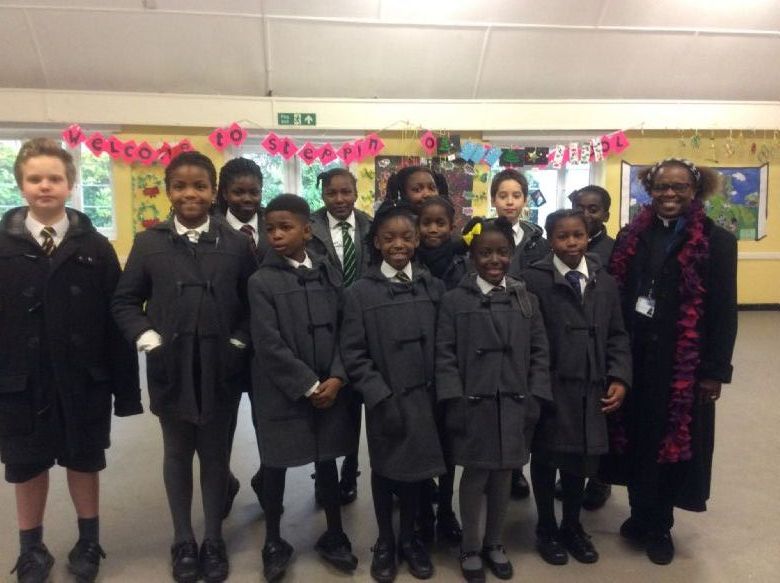 Our next steps as Chaplains
Over the next term we are planning
-to design a prayer area in the school
-lead Liturgies for the Holy Week
-plant flowers and vegetables to represent to new life
Lent 2018
During this time of Lent we ask God for forgiveness and try to listen to his calling therefore we have been planning forgiveness activities that we will be inviting members of the school to participate in during the period of Lent.