Religious Education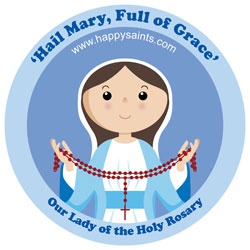 October is the month of Mary during this month children have the opportunity to reflect on Mary's role as the mother of Jesus. We will also be teaching the children about the importance of the Rosary.
Please practice the Hail Mary with your child
Hail Mary, full of grace.
Our Lord is with thee.
Blessed art thou among women,
and blessed is the fruit of thy womb,
Jesus.
Holy Mary, Mother of God,
pray for us sinners,
now and at the hour of our death.
Amen.