St. Luke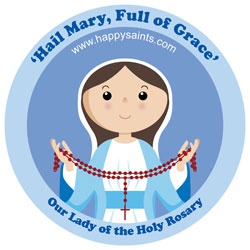 Class Teacher: Miss Ellis
Teaching Assistant: Miss Zajac
Religious Education
October is the month of Mary during this month children have the opportunity to reflect on Mary's role as the mother of Jesus. We will also be teaching the children about the importance of the Rosary.
Please practice the Hail Mary with your child
Hail Mary, full of grace.
Our Lord is with thee.
Blessed art thou among women,
and blessed is the fruit of thy womb,
Jesus.
Holy Mary, Mother of God,
pray for us sinners,
now and at the hour of our death.
Amen.

Reception-Year One
The transition from Reception to Year 1 is an exciting but significant step for children. It is completely normal for some children to feel a little overwhelmed by the more formal approach to learning in Year 1 for a few weeks, but as they settle into the routines, the children begin to take more a more independent approach to their learning. Please be assured all staff in Year 1 are experienced in providing support and guidance to help them settle into KS1. We are always happy to speak to you about any concerns you have and you can contact us after school
We are sure your children will have a wonderful and exciting time in Year 1.
The school day will begin with daily phonics and reading so please ensure that your child arrives promptly.
Reading:
Children should be reading regularly each evening, even if they can read fluently it is still important to spend time with them talking about their books and new vocabulary they have seen and to check their comprehension of what is happening in the book. Parents should also sign the reading record book, and comment if possible, daily. Your support with this is very important.